Supporting industry giants favour Vietnamese market
In the last months of 2023, a lot of supporting industry giants have announced their strategies to penetrate the Vietnamese market, given the fact that the country has become a strategic destination in the global supply chain.
Vietnam has become a strategic destination in the global supply chain (Photo: VNA)
Most recently, DKSH, a leading Market Expansion Services provider, announced a strategic partnership with ACRO Biomedical Co., Ltd of China's Taiwan, a pioneer in the production of cutting-edge medical material for the application of tissue engineering and regenerative medicine.
Under the terms of this partnership, DKSH will offer a comprehensive portfolio of services ranging from warehousing, distribution, logistics, to marketing and sales to ACRO's products. This collaboration leverages DKSH's deep global experience and extensive market network in Vietnam to improve the accessibility of advanced medical materials across the country.
UK manufacturer and distributor of industrial components Essentra Components recently said it will expand its distribution system in Vietnam to better serve local customers.
The strategic move, the company said, aligns with the ongoing trend of global supply chain relocation, as major multinational corporations increasingly select the nation as a preferred destination for investment and production.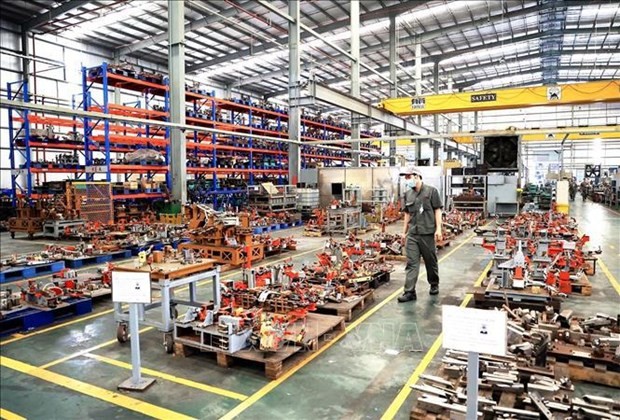 Illustrative image (Photo: VNA)
With more manufacturers moving into new territories as they look to diversify and become less reliant on one area, they need partners that can move with them and continue to offer the same level of service they're accustomed to, said Scott Fawcett, CEO of Essentra Components.
The company's expansion into Vietnam is a solution to that very problem and will give its customers the reassurance that service can continue without interruption, whilst being provided the level of service and support they expect, he said.
The scale of Vietnam's industrial component manufacturing industry is forecast to increase by 6.6% in 2023, contributing to attracting the shifting trend in the global supply chain to Vietnam. In fact, large corporations such as Apple and LEGO have now begun building major production facilities in Vietnam.
According to experts, as Vietnam is one of the fastest growing markets in Asia, it has become an attractive and unmissable destination for global manufacturers and multinational corporations. Furthermore, when participating in the Vietnamese market, global manufacturers and multinational corporations are also able to open the door to reach potential customers in the Asia-Pacific region.
Source: VNA
Source:https://ven.congthuong.vn/supporting-industry-giants-favour-vietnamese-market-49161.html
Copy link